Oakgrain Dust Grey Kitchen Doors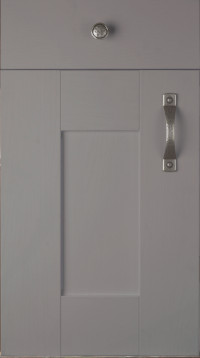 These are a range of oakgrain dust grey kitchen doors from BA Components.
They have a five piece construction, other than the drawers, which are one piece. The doors are made on vinyl wrapped MDF. The frames are 22mm, the centre panel is 6mm MDF. They have a 2mm edge. The doors are all FSC Certified and have obtained the FIRA gold award. They also come with a 6 year warranty.
Please select the door or drawer height below, you will then be able to select the various widths available in that door. You can also select whether you would like the door drilled or undrilled. Drill holes are 98mm from the top and bottom of the doors.
Please note the doors are 5mm shorter (height) and 4mm narrower (width) than the cabinet they are fitted on. As an example a 720mm(h) x 600mm(w) base cabinet requires a 715mm(h) x 596mm(w) door.