White Kitchen Cabinets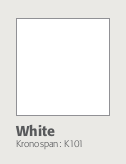 We have a full range of white kitchen cabinets available to buy, with fast dispatch on all orders. These ClicBox cabinets are easy to assemble in minutes, with no tools needed. They are white kitchen cabinets (Kronospan: K101) with legs included with the base units and larder units, and wall brackets included for the wall cabinets.
All the kitchen cabinets are made of 18mm board, with a solid 8mm back. The white base units and larder units are 570mm deep with a 49mm void at the back. The internal depth of the base units and larder units is 513mm.
The wall units are 330mm deep with an 18mm void at the back. Internal depth is of the wall units is 304mm.
The base units come with a shelf included, the wall units come with two shelves included.
We have plenty of replacement kitchen doors available, if you want to pair these cabinets with doors. Try our gloss white slab kitchen doors or our white J profile kitchen doors. We also have the option of buying the complete kitchen units, including the cabinet, door, hinges and legs.
A delivery date will be given at the checkout, and orders are delivered to much of the mainland UK on a next working day delivery, once the order has been dispatched. We are able to send to Northern Ireland and the Scottish Highlands and Islands, but please be aware it takes a little longer to deliver, so please allow three working days from the date of dispatch for delivery.
Our manufacturer has specifically designed the case units so that they can also be used as sink units. As a result we do not sell sink units separately. You can read more on how to convert a standard ClicBox base unit to a sink unit here.
The ClicBox Kitchen Range has been tested at FIRA International Ltd and successfully meets the structural performance requirements of FIRA Gold certification to Heavy Domestic / Contract Kitchen Furniture:
FPG S006 - Level H Specification.