Flat Pack Kitchens and DIY Kitchens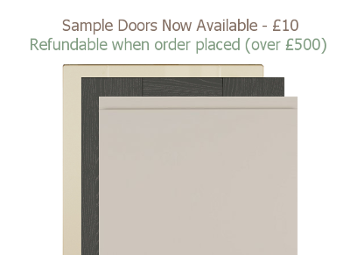 LONGER DELIVERY TIMES: Please note that due to issues with our manufacturer, orders placed with ClicBox elements (Cabinets-only and Complete kitchen unit orders) will be delayed by two weeks.
We're sorry for any inconvenience this may cause.
Flat pack kitchens offer DIY kitchens, doors, cabinets and accessories delivered to your door - fast!
If you are confident with DIY and want to put your own DIY kitchen together, you've come to the right place! Whether it is door, cabinets or the complete units, we have them all available to buy.
We use Pronto by BA, a fantastic selection of vinyl wrap and laquered doors in a variety of styles and finishes. Paired with the innovative ClicBox flat pack carcasses, you can have everything you need to build your brand new kitchen.
We now have sample doors available in every finish. Please click on the sample doors section. All dors are £10 each, refundable on kitchen purchases over £500.
Delivered within a week
Quick assembly carcasses
Secure shopping
FIRA Gold doors
Perfect for DIY Kitchen projects
£5.95 delivery on all orders*
* £5.95 delivery to mainland UK, excluding Grampians and Highlands
Delivery to Grampians and Highlands is £40
Delivery to Northern Ireland and ROI is £19.95
Featured Kitchens