Flat Packed Kitchen Cabinets
We have a choice of three kitchen cabinet colours to choose from, from ClickBox. The cabinets are available in White, Ivory (Cream), Grey or Lissa Oak. The kitchen cabinets can be ordered on their own or with doors using our Complete range of kitchen cabinets with doors.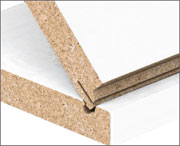 All cabinets come flat packed and are easy assemble, with no tools needed! Made by ClicBox by BA. Click here to learn more about ClicBox and their innovative way of putting cabinets together.
Within this section we have cabinets only available. We do have a wide selection of kitchen doors to match, and also the accessories you will need, such as hinges and handles, that will need to be purchased separately.
If you are looking for the cabinet, doors and hinges we would suggest looking at our complete range of cabinets. They come with all the necessary components you need. Just choose the door style you require, then add the cabinets to your basket.