High Gloss White Slab Kitchens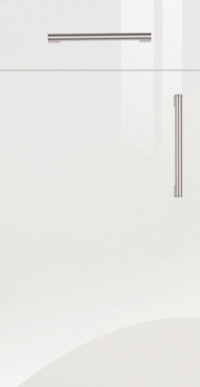 This is a range of Firbeck complete kitchens in a supergloss white finish.
The doors have a high gloss white finish. The doors are supplied with white cabinets (matt finish). All the units are delivered flat pack ready for easy assembly.
The doors are made of 18mm MDF with a 1mm matching edge. They have a laminated high gloss surface with a matching matt colour on the reverse of the door. They are a slab doors. They do not come with handles, but we have a wide range of handles available in our handles section.
Each unit comes with the required doors, drawers, shelves and fittings. This includes Hettich soft close fixings and also includes legs for the base units and larder units.
Our manufacturer has specifically designed the case units so that they can also be used as sink units. As a result we do not sell sink units separately. You can read more on how to convert a standard ClicBox base unit to a sink unit here.
A delivery date is given, once all the items have been added to the basket.