High Gloss Graphite Slab Kitchens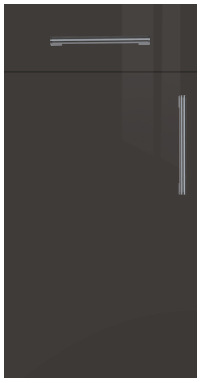 This is a complete range of Firbeck kitchen units in graphite.
The Firbeck range is FSC certified and has attained the FIRA gold award. All doors are 18mm MDF slab doors with matching edging. Laminated supergloss surface with a matching matt colour reverse. Laminated and edged with PUR adhesive system gives the highest head and moisture resistance available.
Complete the look of your graphite slab door by choosing a handle of your choice from our selection available: https://flatpackkitchens.co.uk/products/kitchen-door-handles.
Our manufacturer has specifically designed the case units so that they can also be used as sink units. As a result we do not sell sink units separately. You can read more on how to convert a standard ClicBox base unit to a sink unit here.
A delivery date is given, once all the items have been added to the basket.