High Gloss Light Grey Jayline Kitchens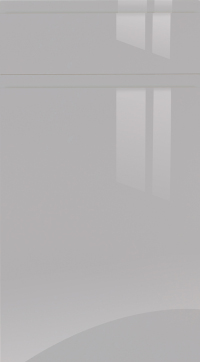 The Jayline Light Grey kitchens doors add style and modernise your kitchen.
Designed and manufactured by BA Components here in the UK, the Jayline Light Grey kitchen doors are sure to update the interior of your kitchen. With smart, integrated handles (also called handleless or J pull handle kitchen doors) and flat packed with an easy to assemble cabinet.
It is a full wrap supergloss door with a continuous laminate on top edge, face and bottom edge of door, sold as a complete unit including cabinets.
All the hinges, drawers and doors and drawer fronts are included. The cabinets are white ClicBox cabinets (matt finish).
Our manufacturer has specifically designed the case units so that they can also be used as sink units. As a result we do not sell sink units separately. You can read more on how to convert a standard ClicBox base unit to a sink unit here.
A delivery date is given, once all the items have been added to the basket.