Matt Grey Kitchens Doors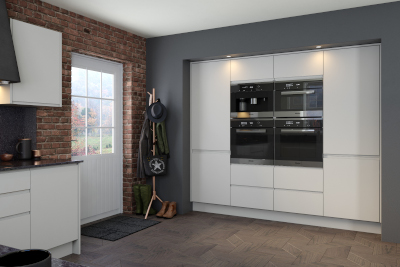 Matt grey kitchen doors have had a steady growth in recent years.
Matt Kitchen Door Trends
As always, trends develop over time. While gloss grey kitchen doors have been around for a while now, especially popular as an alternative to gloss white kitchen doors, we have seen a growing trend in matt kitchen doors over the last few years.
We have been gradually expanding our range of matt grey kitchen doors, and are pleased to now offer not only modern kitchen doors, but also some more traditional and contemporary matt grey kitchen doors too.
Modern Matt Grey Doors
First of all, our modern matt grey kitchens doors, where it all began for us in this colour range. We have two types of door available in grey. We have a Jayline door and a plain slab door.
The Jayline door is a square edged door, with in integrated J profile in the top (or bottom for wall units) that means you do not need a separate handle. They offer a clean and modern design.
The plain slab door is a square edged door with e matt grey finish. It need a handle fitting to the door, but this does offer you the opportunity to add some different styling to the door. We also have a wide range of kitchen door handles to choose from, should you choose this style of door.
These two door styles are available in three different matt grey finishes. We have a light grey, dust grey and graphite door available in both styles. The light grey offers a great alternative to a white kitchen door. The dust grey is a much darker grey finish, while the graphite is almost black.
Grey Shaker Style Kitchen Doors
We have two types of shaker door available in numerous grey finishes. Our Wilton door as a hand assembled five piece kitchen door, available as a grey, dust grey and graphite door colour. These have a matt Oakgrain finish embossed into the vinyl wrap finish. We also have the Hadley door. This is a two piece vinyl wrap with a smooth matt grey finish. They are available in a light grey and dust grey finish.
Grey Timber Frame Kitchen Doors
We also have the addition of a number of different five piece timber framed kitchen doors. They are available with a beaded centre piece, from the Thornbury range, or a plain but still stylish shaker style framed timber door from the Hadley range. Both ranges have Earl Grey, Dove Grey, Dust Grey and Graphite colours available.
Grey Kitchen Cabinets
We also have grey kitchen cabinets, which are a good match for most of the kitchen doors listed below, although we would suggest our anthracite kitchen cabinets would be a better match for the graphite doors in our various ranges.