Kitchen Wall Cabinets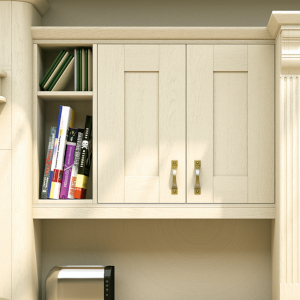 We have a huge variety of kitchen wall units available to buy in our range of kitchen cabinet colours. There are a few things to consider when you are buying your kitchen cabinets, so read on below for more details.
Kitchen Wall Cabinet Height
There are now two heights typically used when choosing your kitchen cabinets. They are typically referred to as medium (or standard) wall cabinets, and tall wall cabinets. Medium wall cabinets are 720mm high. Tall kitchen wall units are 900mm high wall units.
There did used to also be small kitchen wall cabinets, at 475mm high wall units, but these are now largely out of fashion, and we therefore don't stock this size.
Kitchen Wall Cabinet Depth
One thing to bear in mind when buying out kitchen wall cabinets is that our cabinets are 300mm deep, as opposed to the traditional 300mm deep units. When fitting this on their own it's not an issue. The problems may arise when you are trying to match up with wall units that are already in place. Please make sure you measure the depth of the cabinet (without door) and compare it to our specification. Once again, ours are 330mm deep (without doors).
Kitchen Top Boxes
For those wanting a different approach there is the kitchen top boxes. These are half the height of a medium units, at 360mm high. They are a versatile cabinet. They can be used at a top box, sitting parallel with the top of a normal 720mm medium wall units. They can also be doubled up to be used on top of each other, with top hinges.
Of course, if you want to, you can mix and match with display units and top boxes.
Please note: These units are deliberately not pre-drilled. This makes them perfect for using as display cabinets, but also means they are suitable for fitting either top hinged or side hinges.
Kitchen Cabinet Material and Assembly
Our cabinets are made of 18mm MFC with an 8mm solid back. They are assembled using the quick and easy to assemble ClicBox technology. Please click here to see more details about the ClcBox technology, but don't worry, they are very simple to put together.
Kitchen Cabinet Colours
We have four kitchen cabinet colours to choose from. You can choose from white, grey, lissa oak and anthracite kitchen wall cabinets.