Gloss Grey Kitchen Doors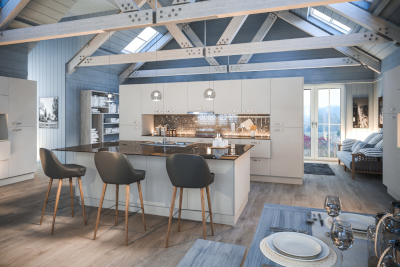 Gloss grey doors remain one of the most popular modern doors available in the UK kitchens market today.
Are Grey Kitchen Doors Still in Style?
The trend for gloss grey kitchen doors came along a number of years ago, and initially was thought it may be a trend of the moment, but fast forward all these years, and it carries on being strong, and has become a staple of the kitchen scene.
Grey kitchens were originally introduced as an alternative to the white kitchen. Something that wasn't white, but was still reasonably neutral. It was initially mainly light gloss grey kitchen, but over time we have seen it develop into a number of different styles and shades.
Different Door Styles Available
Within our gloss grey kitchens, we have two different styles and three different finishes finishes available. First of all we have the gloss grey plain slab door. This is a square edged kitchens door. It is plain, so you need to add handles to the order, as they are not included with the door. The alternative it the Jayline gloss grey kitchen door. This is a J profile, sometimes called J handle kitchen door. The handle is cut into the top (or bottom for wall unit doors), meaning you don't need an additional door.
Different Finishes
We have three different grey. kitchen doors available The original and ever-popular gloss light grey kitchen door, and the newer, darker gloss dust grey kitchen door. More recently we have also released the gloss graphite kitchen door, for those looking for a much darker finish. All three of these grey shades are available as plain slab or Jayline doors.
Grey and Graphite Kitchen Cabinets
To keep with the theme, we also have a grey cabinet. This is more in line with the light grey doors, but still looks great with either of the lighter door colours. We also have an anthracite kitchen cabinet, that more closely matches the graphite finish.
If the colour works for you, but you don't want the go gloss, we also have the same styles and finishes in a matt grey. We also have a number of timber frame and shaker style grey doors, so don't forget to browse those ranges too, before deciding on your final finish.