Are White Kitchens Still in Style?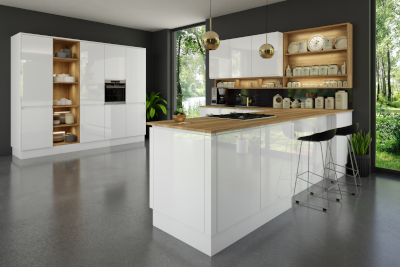 As the years roll on, it's a question that carried on being asked. Are white kitchens still in style? The simple answer is yes, and they probably always will be. There are a few more details to consider though. Please read on for more thoughts from our team.
Are White Kitchens Cabinets Still in Style?
White cabinets are still by far the most popular kitchen cabinet we sell. We believe this is a combination to flexibility and neutrality. White cabinets (and doors) are a great neutral kitchen finish, so they are popular for people that want to ensure the kitchen will be appealing in the future. The cabinets themselves are also very flexible. They combine well with most door finishes, either as a matching colour, or as a contract to a dark door, like the anthracite doors.
Are White Kitchen Doors Still in Style?
It is fair to say they are not one of the in-colours at the moment, but they are still one of the most popular. What do we mean by that? We see kitchen styles come in and out of fashion all the time. Whether it's grey, anthracite or dark blue, as is currently popular, or the more outlandish colours, like yellow and pink that we've seen in the past.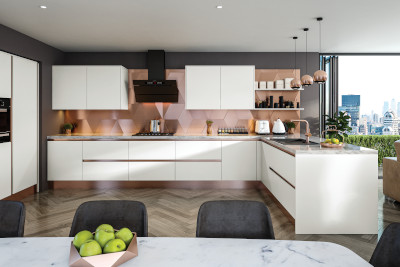 What we do see if white kitchens continue to be hugely popular, as they provide a neutral background to the rest of the kitchen. This gives you the freedom to express yourself in another area of the kitchens, whether it's the kitchen worktops, the tiles or even something as simple as a lighting centrepiece.
Small Kitchens
White kitchens continue to be very popular in small kitchens. High gloss kitchens are especially popular for these types of kitchens. The gloss white finish helps to reflect the light around the kitchen, giving it a lighter, more airy finish.
Rental Properties
White gloss kitchens continue to outsell any other kitchens for the rental market too, especially Jayline and plain white slab kitchens. Once again it's due to the flexibility and neutrality of the colour. These kitchens often appear larger than the really are, especially when paired with good lighting. They are also low maintenance, compared with a kitchen with more complicated features, like a shaker style kitchen, than has extra grooves and edges to gather dust.
What Style of White Kitchen is the Most Popular?
While white shaker kitchens sell steadily, and matt white kitchens also do well, gloss J Pull kitchens (also know as handleless) and plain slab white kitchens still sell more than any other. They offer a modern and bright finish that appeals to many.
This is why we feel the white kitchen is here to stay, possibly indefinitely!