What is the Difference Between a High Line and Drawer Line Base Unit?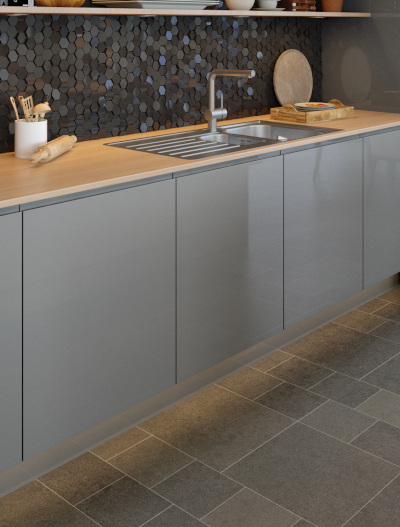 There are two main types of kitchen units. Drawerline base units, and Highline kitchen base units.
A drawerline unit has a cutlery drawer at the top, with a cabinet below. A highline kitchen unit has one door. Both units will have one shelf, but the space within the highline cupboard is larger than the drawerline unit.
Configuration of Highline Units
Highline units consist of one door. The standard cabinet is normally 720mm high, with 150mm legs, making a total height of the unit including legs of 870mm.
The door for this unit is slightly smaller than the unit, so the door can open and close without catching on adjacent doors. Our standard doors for this configuration is a 715mm high door. The width is normally 4mm smaller than the cabinet, so in the case of a standard 600mm wide base unit the width of the door would be 596mm wide.
Configuration of Drawer Line Units
Highline units consist of one door and a drawer above. The standard cabinet is normally 720mm high, with 150mm legs, making a total height of the unit including legs of 870mm (the same as the highline unit).
The difference lies in the door/drawer configuration. With a drawerline the is a 140mm high drawer on top, with a 570mm door below. Once again with door and drawer is slightly narrower than the cabinet itself, in our case 4mm narrower. In the case of a drawer line base cabinet this means it would have:
One drawer: 140mm high x 596mm wide
One door: 570mm high x 506mm wide
Which is Better, Drawerline Units or Highline Units?
There is no right and wrong answer here. Both of them have their advantages. Sometimes the decision is down to aesthetics. Which one you prefer, or works better with the style of kitchen you are buying, and sometimes it is down to practicality.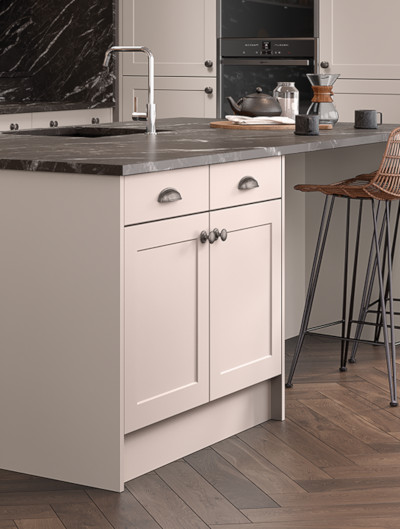 Drawerline units are still very popular in traditional looking kitchens, like shaker style kitchens. This tend to do more with the look of the kitchen than how it's used.
Highline units are predominantly used in more modern kitchens, where people want clean lines, such as J profile or modern plain slab kitchens.
The disadvantage of drawer line units, and one of the reasons they have fallen slightly out of favour in recent year, is you end up with a lot of smaller cutlery drawers, and not so many deeper, some may say more useful, pan drawers.
The solution used by many is to use highline units with a large three draw pan drawer configuration in one position, often below the hob. This give you plenty of cupboard space, one cutlery drawer and two pan drawers. Often these are wide drawers, such as 800mm wide or 1000mm wide drawers, giving you plenty of storage space.
Are there any alternatives?
The more drawers the better, is our advice. Drawer packs are a great way to get the most of your space. It means you can access all of the cabinet space easily, so you're less likely to find a an old tin of peaches left over from the 1990s!
One of the more recent popular options is to put pan drawers inside highline units. This mean you get the clean lines from the highline cabinets, combined with the practicality of drawer storage. In our opinion it's often the best solution, but as we mentioned above, it is subject to budgetary constraints. Due to the nature of drawers, they are a more expensive solution, but trust us, you'll be grad you've splashed out on them!