What is a kitchen end panel?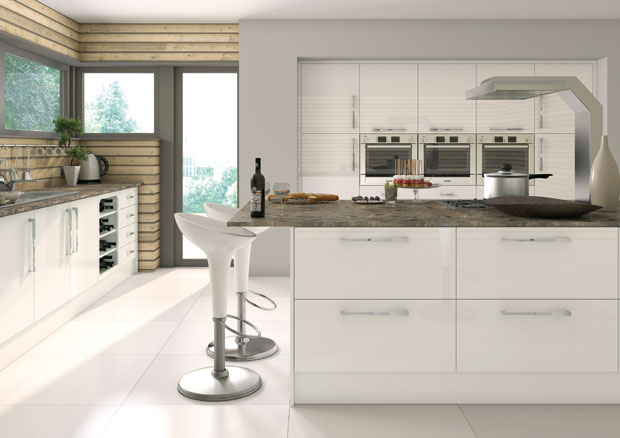 When you're buying a new kitchen or refreshing your kitchen with replacement kitchen doors, you might be asked if you need an end panel. But what are they, and when might you need one?
End panels give a kitchen a neat finish, disguising the colour of cupboard carcasses – which often differ from the doors – and hiding joins and gaps. They can also give units a level appearance in kitchens where the walls and floor are not entirely straight.
As the name suggests, end panels are fitted to the exposed end of a unit. The panels are attached to the cabinet and often also support an overhanging work surface, whilst the front edge aligns with doors and drawers to give that fitted kitchen look. The drop of an end panel can extend to the floor and meet the plinth, whilst some are supplied with 'feet' or plastic moulding to keep them clear of the floor.
Do I need a kitchen end panel?
If your unit carcasses don't match the doors and drawers, then yes! This is the case with most kitchens, so end panels are usually required.
You might also want to think about end panels if you have a stand alone dishwasher or fridge freezer. End panels at each side of the appliance can give a neater finish and a more uniform overall appearance to your kitchen.
What do I need to consider when buying end panels?
Don't forget to work the cost of end panels into your overall budget. Also, factor their dimensions into your measurements, or you may may find your glossy new kitchen doesn't fit!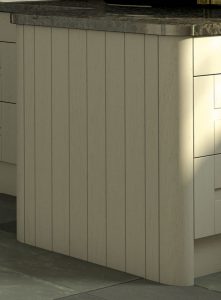 There are normally three different sized end panels; base end panels, wall end panels, and larder end panels (also called tall end panels). They are the correct size for each of the relevant cabinets. Please be aware that it is normal for the end panels to be made oversized (compared to the cabinet). This allows you to cut it down to exactly the correct size you need for your kitchen.
Some people align their end panels to their kitchen doors, others like the panels to align with the worktops. Some prefer something in-between. As a result the panels are made oversized, so you can choose the size that best fits your needs.
Plain vs Tongue & Groove
Most kitchen designs suit a plain end panel, so that they blend with the rest of the kitchen. The exception is the more traditional kitchens, where some prefer a tongue and groove end panel. We have a few selections available. Please see our page on tongue and groove end panels for more details.