Kitchen Island or Peninsula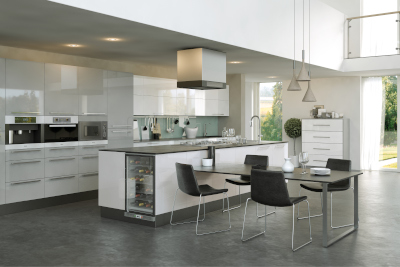 For anyone wishing to maximise workspace in the kitchen, an island or peninsula can be a brilliant addition. But what is the difference – and which would work best in your home?
To think of it simply, picture the coastline. An island stands alone whilst a peninsula juts out from the mainland. It's the same in your kitchen; an island is a stand-alone unit whilst a peninsula is accessible from three sides, either extending from other cabinets and worktops or a wall.
Kitchen islands and peninsulas are not only great ways of boosting the available work surface but can also comprise extra cabinets, drawers, shelves and appliances. Here's the lowdown on each – and how they might work for you!
Kitchen islands
Islands work really well in large kitchens with plenty of space to walk around all sides. If you have a lot of floor space, you might want to put an island in the centre of your kitchen or, if the room is rectangular, an island could work well at one end.
As well as allowing extra worktop space on which to prepare food, larger islands can double as snack or breakfast bars, with diner-style or bar stools on one side. If your island is on the smaller side, make the most of every inch of space by incorporating cutlery drawers or storage for pots and pans in the base unit.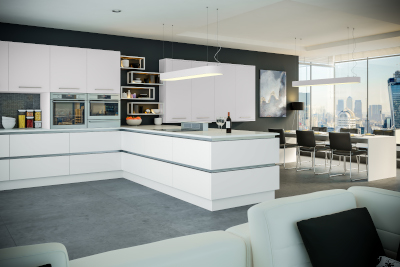 One of the joys of kitchen islands, if you do have the room, is the joy of choosing your lighting. It's the perfect opportunity to go extravagant with your lighting. You can also let the pendants, if that's what you go for, can drop down a lot lower than in a normal situation, where you may knock your head if it's too low.
Kitchen peninsulas
Peninsulas can work particularly well in smaller kitchens, where there is an even greater need to plan the layout with care. They can add vital additional work surface space and, with a couple of barstools tucked underneath, can create a much-needed eating space in a room otherwise too small for a table.
Don't think, however, that peninsulas are only for small kitchens. They can break a larger room into well-defined areas beautifully, creating an efficient work triangle in the 'kitchen' section and keeping children or dinner guests nicely out of the way in the dining space!
As well as incorporating practicalities into your peninsula design, such as tucking washing machines and dishwashers underneath, think about adding individual touches too. Rather than having barstools, for example, why not attach a banquette-style bench or a settle to one side of your peninsula, facing outwards, or create a bookshelf at the end for all those recipe books?
Still not sure which to opt for? As with all styles of kitchen unit, islands and peninsulas come into vogue at different times, so think carefully about the layout of your room rather than what you've just seen in a glossy interiors magazine. Any unit shoe-horned into the wrong space will never work for a keen chef or for busy family life, so think carefully about how you want your island and peninsula to work for you or your kitchen will be all at sea!