Kitchen doors explained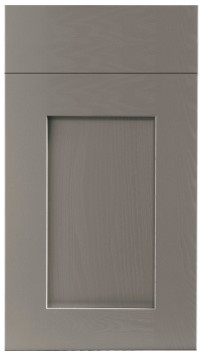 Replacing old and tired kitchen cabinet doors is an easy way to freshen up your kitchen at a fraction of the cost of buying new fitted units. But the thought of measuring up – and getting it wrong – can be enough to put many homeowners off doing it themselves.
The good news is that replacing kitchen doors is actually much easier than you might think. It simply requires some careful planning and a spot of research into the terms and measurements used by kitchen cabinet suppliers. So read on and our guide will explain all you need to know about do-it-yourself kitchen doors!
Kitchen cabinet carcass
The carcass is the body, or the cabinet unit. These tend to be made either of strong melamine-faced chipboard, which is white or has a wood effect, or solid wood. Cabinet units are usually the 'hidden' part of a fitted kitchen and don't experience the same wear and tear as some of the visible components, which is why it's often unnecessary to replace the whole carcass.
Kitchen cabinet doors
Kitchen cabinet doors come in many different styles and sizes, with solid wood, laminate or painted doors available. One slight difficulty for customers is that the size of 'standard' doors can actually vary depending on the kitchen cabinet manufacturer, so meticulous measuring is needed before ordering your new doors.
Doors tend to be a fraction narrower than the carcass – usually 4mm – to prevent friction between units when opening doors and drawers. So, for example, a kitchen cabinet measuring 500mm will usually need 496mm doors. They also tend to be 5mm shorter than the height of the kitchen unit, again to allow clearance between drawers and cornices.
Also, when doing your calculations, don't forget that the base units sit on 'legs'. These are usually 150mm high but this can vary. This means that the height from the floor to the top of the base unit is 150mm higher than the cupboard itself. For example, a 600mm base line unit would have the following dimensions:
Height of door: 715mm
Height of cabinet: 720mm
Height from floor to top of cabinet: 890mm (with 150mm-high legs)
Take note of whether the door opens to the left or the right. If your kitchen door hinges are still in good condition and are the right size, it's worth re-using them instead of buying new.
Kitchen base units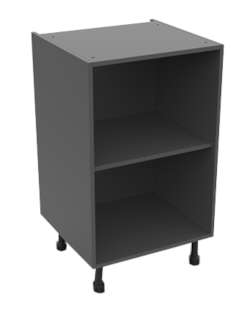 This is a floor-standing kitchen unit, usually on adjustable legs that can be hidden by a plinth or pelmet. A drawer line base unit has a drawer panel or a false 'drawer effect' front at the top, whilst a high line base unit does not have drawers and therefore has a larger door.
Kitchen wall units
Wall units are cabinets attached to the wall, often above the kitchen work surface. They are available in wood, laminate and also glass-panelled styles, allowing homeowners to display crockery and glassware. Corner wall units are used in corners, often where two rows of cabinets meet, and, as with corner base units, can have diagonal doors from one corner to the other or hinged L-shaped doors that open to the full width of both edges.
Wall units mainly come in three sizes, 575mm high, 720mm high and 900mm high.
Kitchen larder doors
Kitchen larders come in many shapes and styles, including single, double and with internal drawers. Do It Yourself Kitchens' replacement larder doors come as soft-close as standard and ensure your larder unit blends seamlessly with the rest of your kitchen.
Kitchen appliance cupboard doors
Many homeowners prefer their appliances such as fridges, freezers and washing machines to be concealed behind doors matching cabinet doors and drawers. Cupboard and appliance doors can be opened separately or they can be joined in order to open in one movement.
Kitchen cabinet cornices and pelmets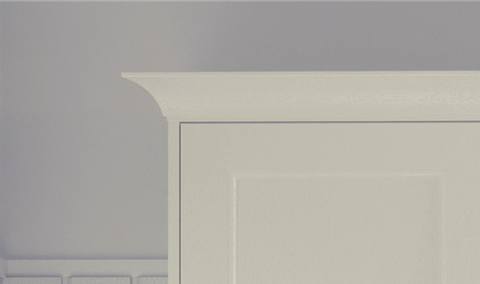 Cornices and pelmets are decorative strips of wood or laminate used to give a kitchen a neat finish and to conceal lighting. Cornices fit to the top of wall units or tall cupboards and usually jut out, whilst pelmets fit below wall cupboards. They help frame the kitchen wall units, but more importantly hide any lights that are fixed below with cabinets.
Kitchen plinths
The plinth fits below the base units, to hide the legs that the base units sit on. They are usually made to match the door colour, although aluminium finishes are also available.
Kitchen door handles
Some replacement kitchen doors include the handles whilst, with others, accessories such as handles and doorknobs need to be bought separately. It is worth investing in the best handles you can afford, as a quality set can transform the appearance of even a budget kitchen.