Do I Need an End Panel?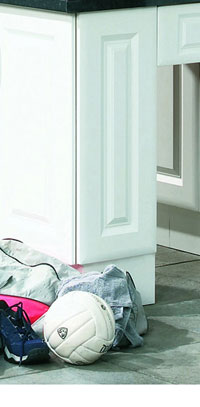 A regular question we get asked is about the end panel. When do you need one? Do you need one at all? What's the point of them? So let's get a better understanding of the end panel.
What is an end panel?
First of all there are a few types of end panel. A wall end panel (goes on the end of the wall unit), a base end panel (goes on the end of the base cabinets. i.e. under the worktops) or a full height, to go on the end of a cupboard, full height oven housing etc.).
Why do you need one?
A base end panel serves several purposes. For further explanations in this post we'll use the base end panel as the example. First of all it is a full-height panel, meaning it goes from the floor up to the worktop. This is the first reason you may want an end panel. If you are using a plinth (or kickboard) as most people do, it will run the length of the units. When you get to the end you have two options, either you run the plinth down the side of the cabinets, or you can run it to the end and then put a full height base panel on the end. This finishes the kitchen off nicely, giving a clean edge.
Matching the end panels
We have four different colours of cabinets available. In times gone by, cabinet colours were often colour matched to the doors, however as trends have changed, most people now choose one of a couple of colours. Anthracite and white being the most popular by far. If you do choose a cabinet colour that is different from the door, you will need to hide any exposed cabinets.
This is where the end panel comes in. The side of the cabinet, at the end of a run of cabinets, is usually left exposed. This means hiding it behind the end panel means the end of the run matches all of the doors, making it a more aesthetically pleasing finish.
How do you fix the end panel?
If you need an end panel, you may be wondering how you fix the panel tot he kitchen. The end panel is screwed to the base unit cabinet (from the inside of the base unit). You don't replace the side of the cabinet with the end panel, you just fix it to the cabinet. This fixing is hidden inside the cabinet, so is seamless from the outside.
Hopefully that will explain whether you need a base end panel or not, but if you're still not sure just call us, we'll be happy to answer any questions!