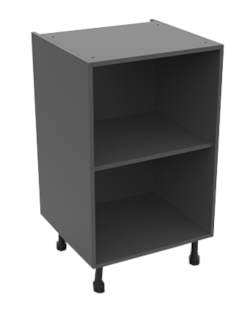 You don't always have to spend a fortune to upgrade your kitchen. We have a full range of kitchen base units available to buy from Flat Pack Kitchens.
The units are available in four different colours, and a vast arrange of size combinations. They are 720mm high, 870mm including legs when the legs are fitted at the standard height of 150mm.
ClicBox Kitchen Base Units
Our units are made of 18mm MFC with a 1mm ABS edging on the front. They also have a 8mm solid back. It is assembled using the no-tool ClicBox technology. It can be assembled in seconds but is robust enough to handle any wear and tear in a normal kitchen.
Our kitchen base units don't have a specific sink unit, instead you can cut out the top (and part of the back, if needed) to fit the sink.
The kitchen base cabinets are pre-drilled for both left and right hanging. They also come with a single shelf with each unit.
Please see the links below to see the different types of cabinet available.