Switch on to safety in the kitchen
Installing a new kitchen? You've probably chosen the gloss units, booked the fitter and even picked out a stylish new dinner set. But have you given much thought to the kitchen electricals and, in particular, their safety? If not, read on!
Extra care needs to be taken in the kitchen, where a combination of water, hot surfaces, flexible cables and electricity can lead to an increased risk of accidents, including electric shock and fire. In fact, government statistics show that more than half of all accidental house fires in 2013-14 started in the kitchen.
According to the National House Building Council (www.nhbc.co.uk), electrical fittings such as sockets and control units should be positioned safely and to avoid harmful effects from heat and steam. Standard electrical fittings – ie. those which are not splash resistant – should not be installed next to a sink or drainer. A minimum distance of three metres, measured horizontally from a socket or unit to the edge of a grill, cooker, hob, sink or drainer, is advised.
Cooker switches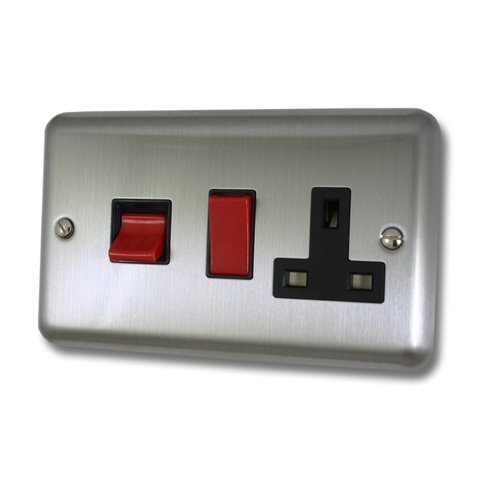 A cooker switch, or cooker control unit, allows an appliance to be switched off quickly without interrupting the main electric supply. This could be to carry out repairs or for safety in the case of an emergency. The cooker isolator switch must be easily accessible and safe to reach, therefore it's recommended they are not installed in a cupboard or placed above or behind the cooker, where a person might need to reach across a potentially hot unit to switch it off.
Cooker switches are available in single, double and double vertical versions and must be 45 amp.
Grid switches
A grid plate allows you to create a combination of switches on one plate. They range from single switch plates to 12-gang plates and are often used in the kitchen to combine dishwasher, fridge, freezer and washing machine switches in one convenient location. Unlike the cooker switch, they can be tucked away under worktops or in cupboards.
Fan switch
Your new kitchen might include an extractor fan above the cooker to remove the odours, steam and grease created when you cook. Choosing the right switch for this can be confusing. You will need a 13 amp switched fused spur, not a fan isolator (which are normally used in bathrooms). If you are putting this switch with other switches on a grid plate you will need to use a 20 amp DP switch rather than a 13 amp fused spur.
Speak to a qualified electrician if you need any advice at all about kitchen electricals. Don't forget you're not allowed to carry out any electrical work in a kitchen – you must use a qualified electrician for any installations. Your local building control department will need to be notified about certain electrical work and your kitchen fitter or electrician should be able to tell you if the work complies with building regulations.